Storytelling
Bio Evolution
Indoctrination
Storytelling
Stories to us are very interesting and captivating that they make a big part of our daily lives. Whenever we talk or whatever we watch, it is where a story is being narrated which is the most fascinating and memorable part of the entire discussion or a film. Stories are everywhere around us, and many cannot live without them to the point of addiction. By this I mean stories expressed in diverse mediums such as comics, movies and novels.
What makes stories so enthralling to our species? Is there something in our biological makeup that make us naturally inclined to them? I recall stories that were told to me by my aunt and boy were they good. She was a good storyteller, or maybe I was a young boy with a simple mind and I hadn't yet been over stimulated with graphic images of flashy CGI movies and video games.
I remember it always being in the evening where me and my cousins would be thrilled and excited over her stories. From stories of witches, shape shifting humans, to normal people with everyday problems such as that of relationships and rivalry told in ways only children would understand and be charmed.
Coming back to what keeps us with an insatiable thirst for stories; is what is embedded in our inherent, evolutionary, consciousness where believe it or not; there was a time when listening to stories was essential for our survival, and since then it has become one with our genetic makeup.
Bio Evolution
In periods and places of tribal times and settlements; somewhere the sun has taken its rays with her and after a long and hard day of tending the land and hunting the jungle, an old man stands by the fire which the animals see and call it, "The red flower." All the men, women and children of the tribe sit quietly and listen eagerly to the stories of the old, present and future. With these stories, they learnt how to live with each other, how to hunt, how to plant, how to make medicines and even what or who to hate, fear or love.
The chiefs who tell these stories would want their ideas and virtues to be heed and grasped by the listeners who are a generation or more younger than them. Thus their ideas, ways of living and the way they want the future to be; exist and manifest for generations to come. They would instill such characteristics to the heroes of the story so as to be attached to the minds of the young. Common characteristics included; bravery, honor, integrity altruism and heroism. They would attribute manners of what they deemed as masculinity to the heroes and what is expected as femininity to the heroins to be absorbed to the different sexes that made up the listeners respectively.
This ensured a balance in all social norms which is the pillar of the tribe. Such information would be chronicled with a spark of legend by being narrated sometimes with exaggerated gestures, magical and comical performance; so as the listeners find it interesting and be attentive. Thus the members of the tribe's life would play out similarly to the stories. Through bio evolution millennia from then, we inherited this same fascination to stories that we clearly see today, from the hereditary genetic makeup carrying wisdom and skills of our ancestors due to the fact that they depended in them to gain the knowledge for their livelihood.
There is also a great significance of the presence of fire in rituals and storytelling and how it triggers and activates our dormant instincts; containing ancestral skills and wisdom. An excellent example of stories narrated in similar old and traditional fashion is in Mel Gibson's; "Apocalypto" where there was a scene of an old man narrating an anecdote to his tribe who were seated around a burning fire.
Indoctrination
For generations people understood that ideas are easily absorbed by the masses when presented to them in the form of stories. In kindergarten, the most memorable information which the children usually retain more than other lessons are stories which are being apprised by their teachers. It is also something which anyone can utilize for themselves if they want to pass down knowledge of wisdom to their kin or students; is to present those teachings in the form of stories.
Like stories told to children, the world's global elite are well aware and use this very same technique to indoctrinate and form or change our opinions in both the social and political spectrum according to how they believe it to be right. They use this in forms of the media and fictitious stories presented to us in novels, comics and both children and adult films.
Joseph Goebells was a German Nazi politician and Reich Minister of Propaganda in WWII and his films centered around the theme of socialism, patriotism, the evil of his enemies and the superiority of the Aryan race. This greatly inspired the machine operating the Nazi regime and their ideologies. With the USA officially emerging as the superpower of the 1900's to date; they inherited and employed many of the Nazi tactics in operating America (see Project Paperclip) and one of these most cherished schemes was the use of propaganda posters and films.
//"Uncle Sam" posters gained popularity in the 1970's calling Americans to war//
Hollywood which is the largest producing film studio, has had a history of making propaganda stories in films as instructed by the government:
"Pentagon has had an entertainment liaison office since 1948. The Central Intelligence Agency (CIA) established a similar position in 1996… Files we obtained, mainly through the US Freedom of Information Act, show that between 1911 and 2017, more than 800 feature films received support from the US Government's Department of Defense (DoD)."
-The Telegraph
More information about Hollywood's affiliation with the Government in this
link
Such films produced are basically stories that are used to incite unfavorable opinions on the targeted masses against rival political parties, race or nations usually depicted as violent savages in order for the government to gain the public support against their enemies.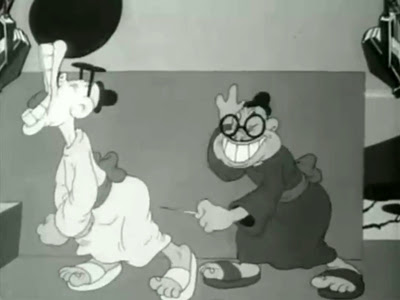 Image above is from a Looney tunes cartoon episode meant for children titled; "Tokyo Jokio" Produced during the WWII, which depicts Japanese as funny looking , doing stupid and moronic things. Such films are massively produced throughout generation to entertain and also brainwash the American citizens on who to perceive as the enemy whenever the U.S starts a war with a country.
Other modern stories made for children by Looney Tunes was an episode titled "Alibaba Bound", which featured an Arab commander as a barking imbecile, intending to steal and terrorize a Fort created by the French Legionnaires.
And what makes a good story of Arabs complete for the American children, without an Arab with a bomb around his head going for a suicide mission?
More films and animation movies are being produced today with similar themes to justify the invasion and oppression of the Middle East by dehumanizing them in stories as a result; their subjugation and death can always be justified. With this note we can conclude that modern day storytelling has taken a dark turn to ensure it shapes the public's opinion in both politics and societal way of living.