Parkour or 'Parcours du combattant' – military obstacle course, as it was first originally called prior to World War 1, means running from one point to another (point A-B) in a complex environment while safely, efficiently and swiftly avoiding obstacles or using those very obstacles to your advantage to reach onto other obstacles in the fastest way possible. Thus for any move or action to be call parkour, it has to have the three requirements that is; safety, efficiency and swiftness.
Parkour is also a set of skills that involves physical feats that enables a person to adapt to any environment that they are in and transverse efficiently and reach their destination the quickest. So in the case a person is in a field, they should be able to run as fast as possible and if a person is in water, they should be able to swim.
A basic form of parkour has always been used as a military standard for training that includes running through an obstacle course to keep the soldiers conditioning fit and strong. It is also used as physical conditioning test for the cadets before recruitment.
There exists systematic techniques which attribute to physics behind parkour moves that allows the "traceurs" – parkour practitioners, to utilize the best techniques which they are going to learn from the drills provided by their instructor to either jump to an obstacle or drop from it safely without any injuries which a non-practitioner is likely to be exposed to.
Here, the word "obstacle" stands for anything in your way that hinders you from reaching your destination without overcoming it or "beating it". Common obstacles could be; structures waist or chest height that you could pass by using wide variety of vaults each for different situations, a wall high enough that you would need to use specific levels of climbing techniques to get over it very fast and utilize energy at the same time and even a gap that you would have to apply the proper jumping technique to reach the other side and stick the landing.
Apart from its use militarily, our ancestors had to implement such skills in their daily lives i.e hunting to catch various wild animals or running through dangerous terrain in order to send and receive messages. Today we inhibit these abilities due to lack of such activities making us weak and unhealthy. Parkour brings hope for us to regain the abilities which we have long lost.
"It is a training discipline using movement that developed from military obstacle course training. Practitioners aim to get from one point to another in a complex environment, without assistive equipment and in the fastest and most efficient way possible. Parkour includes running, climbing, swinging, vaulting, jumping, rolling, quadrupedal movement, and other movements as deemed most suitable for the situation. Parkour's development from military training gives it some aspects of a non-combative martial art."
-Wikipedia
As a martial art practitioner, I consider parkour one of the most useful tools of martial arts and very similar to the ones I have been a disciple of in all of its aspects. From its origins as a form of military tactic and conditioning constructed by the founding fathers to where it is today, practiced by traceurs who unfortunately most have either forgotten or are uninformed about it's intents, principles and discipline that comes along such an art as intended by its pioneers.
"The most important aspect of parkour is not the physical movements, but rather the practitioner's mentality and understanding of its principles."
– David Belle
This particular quote reminds me of Grand Master Gichin Funakoshi's quote about Karate;
"The art of Karate lies not in victory or defeat but in the perfection of the character of its participant."
-Gichin Funakoshi
So Parkour isn't jumping around pointlessly for leisure or for the purpose of making videos for entertainment alone, to truly understand an art and get the best from it is to know of its origins and its purpose as it was designed by its founders.
"Parkour requires you to look at your environment creatively. Instead of interacting and maneuvering through the world as some architect or city designer wanted you to, you do it the way you want. Stairs? We don't need no stinkin' stairs! Oh, you want me to use this little pedestrian bridge? I'll just jump over this gap and swing under this rail. Every fence, wall, or gap becomes an opportunity to try a new move."
-Art of manliness
History of parkour
Before World War I (1914) a French Naval officer by the name of Georges Hébert put much emphasis on physical conditioning and athletic skills on the soldiers he instructed which he learnt from the indigenous tribes of Africa he visited in his expeditions.
"Hébert set up a "méthode naturelle" (natural method) session consisting of ten fundamental groups: walking, running, jumping, quadrupedal movement, climbing, balancing, throwing, lifting, self-defence and swimming. These were intended to develop "the three main forces":
(1) Energy : willpower, courage, confidence, and firmness.
(2) Moral : benevolence, helpfulness, honour, and honesty.
(3) Physical : muscles and stamina."
– Wikipedia
Him and fellow military men witnessed how parkour helped them save lives together with that of their own numerous of times, now putting it in a manual and making it into a standard method of French military training.
"Sir Georges Herbert"
Birth of parkour
A man by the name of Raymond Belle was born in Vietnam (1939) to a French father and a Vietnamese mother. When separated from his parents during the first Indochina War, he would use the "Parkours de Combatant" mauscript in secret and train so that he does not become a victim which was brought about by the dangers of being without a guardian. In 1970s David Belle the son of Raymond was born. He would learn Parkour from his father and later on find several stuntmen with similar interests calling themselves the "Yamakasi" which included Sébastien Foucan the founder of Freerunning.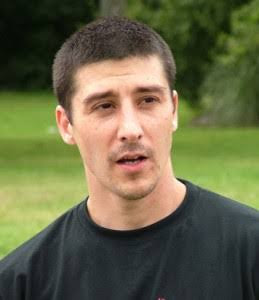 "The founder David Belle"
The Yamakasi principles of parkour
With the Yamakasi created, they would learn and teach each other different forms and styles of movements. They formed a discipline and even made certain rules and principles which the traceurs had to abide to. Parkour under their instructions was like a religion, certain rules were to be enforced and followed.
Among the least harsh ones was that everybody should be on time during sessions and meetings without getting late, everyone should respect one another and not show off their skills and if any of them brought up a newly discovered movement or managed to be the first one to beat a certain obstacle, then the day will not be over until each member does the same without excuses. Failure of any of the members to uphold such principles would lead to a punishment or a permanent ban.
"If you're not better than what you were the day before, then what are you doing, what's the point?"
– David Belle
"There are no limits. There are plateaus, but you must not stay there, you must go beyond them. A man must constantly exceed his level."
– Bruce Lee
"The Yamakasi"
Freerunning
Parkour should not be mistaken with "Freerunning" since freerunning is combining the aspects of parkour with gymnastic, acrobatic, "tricking" and even b-boy moves such as flips and kicks to make parkour fancier, stylistic, and artistic. Sebastien Foucan was the first one to come up with such a concept defining parkour as a way to express your freedom in movement and emotions such as anger and happiness. Parkour is now not only a method of physical and defence training but also a meditational therapy offering a way to understand and express one's mind.
It should be noted using moves like flips in parkour thus freerunning, a traceur in most situations delays reaching their destination in time thus free running is almost always used during a fun run instead of a serious pursuit or chase.
"Sebastian Foucan, the founder of freerunning"
Parkour tips
I. Martial arts and calisthenics.
Definitely not a necessity but to be a fast learner of parkour, building strength and agility to avoid injuries, just like how Georges Hérbert instructed, I would strongly recommend one to practice both martial arts and strength exercises such as calisthenics.
This is not to suggest that one has to be an expert in those two fields but learning how to balance your body while kicking will make you develop a natural defence mechanism to easily recover in an event of a fall and also being able to carry your own weight will make you avoid many injuries for when your body depends on your strength to pull yourself up.
II. Have the correct mindset.
Having the correct mindset and intention during training will determine your progress and development. The Yamakasi would not allow any negativity during training that would bring them down, lessen their morale into giving up. Know that everyone began from scratch and that everything is possible.
"Thinking you're going to fail at something gives you a higher risk of doing just that. Committing to something you're thinking or knowing you will land gives you a higher chance of landing or completing the task."
-Daniel Ilabaca
III. Warm ups.
Focus on stretching your joints before sessions putting emphasis on the wrists and ankles, your core and back. Risks of facing an injury during training made me not ignore my stretches. Practice the proper alignment of your movements such as the knees should be perpendicular to your ankles during a squat, this will make you avoid knee injuries. Whenever you land or when dropping from a height make sure the ball of your feet touches the ground fast then quickly direct the force of the impact evenly elsewhere by stepping with your heels and bending your knees. When doing vaults make sure your wrists are also perpendicular to your forearm to avoid wrist injuries.
IV. Doing it once doesn't mean anything.
Whenever you are able to execute a new or difficult move perfectly for the first time you have to repeat it again at least five to ten times in a row in order to claim that you have actually done it so be true to yourself.
V. Useful parkour Youtube channels and videos
– https://youtu.be/zv1Fuqhxia8
– https://youtu.be/6zfRFfwNWtk
– https://youtu.be/c6WgBzetVTs